Case: 2D Video Development for Stone Slon
Client: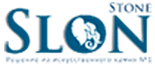 TASK
To demonstrate in the video the advantages of artificial stone and work with Stone Slon company; to present its products in a favorable and interesting manner. To create a bright and outstanding video that can differentiate the company from its competitors and will be remembered by customers.
Preliminary analysis
Why do artificial stone become more and more popular in the interior? Why is it better and more practical than a natural one? Is it true that the creation of the furniture of artificial stone is a true art? The "Stone Slon" company knows the answers to these questions.
IDEA
In order to implement this task, we decided to create a bright, colorful scene clip in 2D graphics with elements of classic infographics, adhering to the corporate style of the company.

IMPLEMENTATION
After analyzing the needs of the target audience, we created a story, which reflects all the major problems with the use of products made of natural stone and presented their unique solutions with the help of artificial stone. Video is made in the style of character animation with the use of shape animation. We managed to create fun, understandable and informatively capacious clip.

You are interested in this project and want to work with us too?